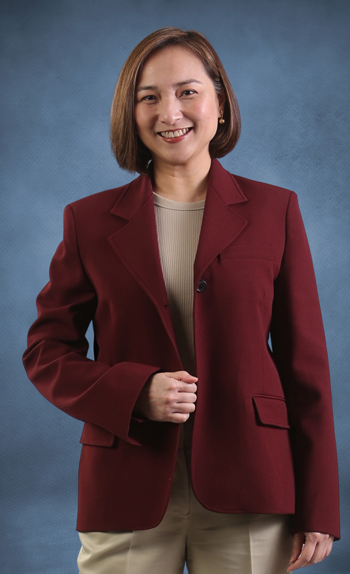 Angelica Santillan-Reyes 
Director
49, Filipino
Ms. Santillan-Reyes currently serves as senior vice president/deputy head, Trust Banking Group of Metropolitan Bank and Trust Co. She held several key positions in Metrobank: senior vice president/head, Treasury Group from January 2020 to December 2022, senior vice president/head, Markets Sales Group from November 2013 to December 2019, senior vice president/head of Sales and Structuring Division, Treasury Group from February 2010 to November 2013.
Ms. Santillan-Reyes also served as director/head of Global Investor Sales of Standard Chartered Bank, Manila Branch from June 2007 to March 2008 and vice president / senior corporate dealer – Global Markets Sales from April 2005 to January 2006; associate director / senior regional structurer  – Southeast Asia of Standard Chartered Bank, Singapore Branch from February 2006 to June  2007; asst. vice president, Global Markets – Debt Capital Markets and Corporate Coverage of Deutsche Bank AG, Manila Branch from November 2003 to April 2005. She also held several positions in Globe Telecom Inc. from Jun 2001 to Oct 2003; Banco Santander Philippines Inc. from Aug 1995 to Jun 2001; Zaitech Inc. from Jan 1995 to Aug 1995; and Multinational Investment Bancorporation from Jun 1994 to Dec 1994.
Ms. Santillan-Reyes finished her degree in Bachelor of Arts, Major in Management Economics from Ateneo de Manila University, Philippines in 1994 and obtained her Master of Science in International Business and Finance from the University of Reading, UK wherein she graduated with Distinction, Awarded the British Chevening Scholarship.