First Metro named Best Investment Bank and Best ECM House by FinanceAsia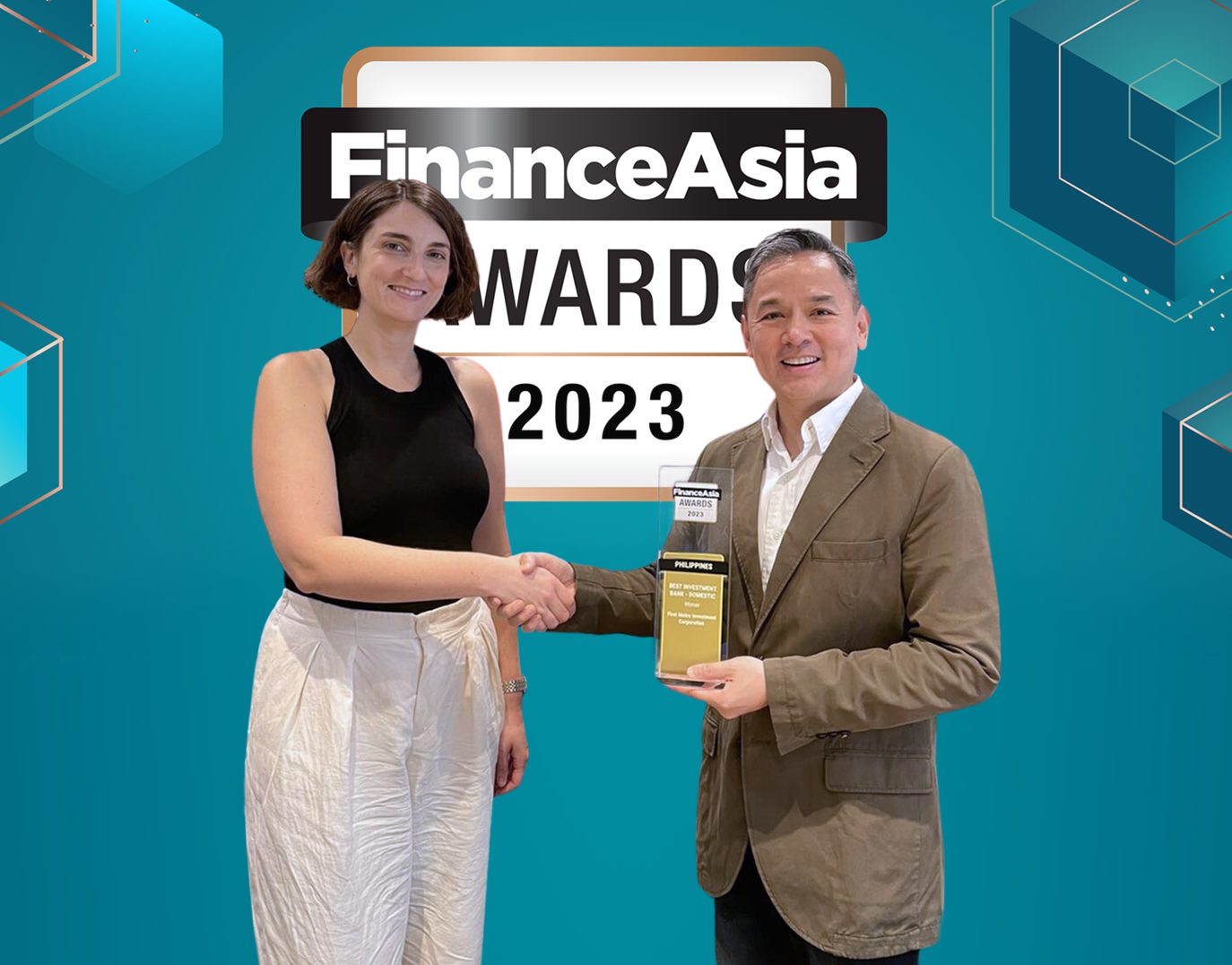 In photo is First Metro executive vice president & Investment Banking Group head Daniel D. Camacho (right) receiving the award from FinanceAsia editor Ella Arwyn Jones.
First Metro was honored as the Best Investment Bank and Best ECM House 2023 by Hong Kong-based finance publication FinanceAsia.
The awards are not only a reflection of the company's outstanding performance in 2022-2023, but also a confirmation of First Metro's unwavering dedication to excellence and innovation in the capital markets.
"We are deeply honored to receive these prestigious awards from FinanceAsia," said First Metro president, Jose Patricio Dumlao. "This recognition is a testament to our relentless pursuit of excellence and our steadfast commitment to creating value for our stakeholders."
"For us at First Metro, being an industry leader goes beyond counting deals. We believe in making the numbers matter and contributing to the growth and development of the capital markets and the Philippine economy," added Mr. Dumlao.
In 2022, First Metro completed a total of 16 capital markets transactions, raising a total of P1.1 trillion, and accounting for 72% of the market. These successful deals have significantly spurred the growth and development of the country's top conglomerates and corporations, acting as a catalyst for boosting economic activity.
FinanceAsia recognized First Metro's inspired work, particularly in bringing small and medium-sized enterprises (SMEs) to the market. The regional publication noted First Metro's efforts in mobilizing capital for the successful P288.75 million initial public offering (IPO) of food and beverage company Balai ni Fruitas (Balai).
By boosting Balai's operation, the IPO not only benefited the baked goods industry but also supported the employment of 85,106 workers – making Balai the second-largest employer in the Philippines. The Balai IPO proved that SMEs could tap the Philippine Stock Exchange (PSE) for their capital raising requirements. The listing also broadened the mix of companies listed on the PSE SME Board.
Notably, First Metro played a significant role in arranging and managing some of the largest bond issuances in 2022, including prominent companies such as the Ayala Group, SM Group, Aboitiz Group, Metropolitan Bank & Trust Company, Robinsons Land Corporation, and Filinvest Land, Inc.
These bond issuances funded various projects, from renewable energy initiatives to property portfolio expansions, showcasing First Metro's expertise and commitment to driving positive change in the Philippine economy.
The National Government also benefited from First Metro's deal-making, tapping the investment bank as the joint issue manager for its ₱457.80 billion and ₱420.45 billion Retail Treasury Bonds, which were used to finance government priority projects nationwide.
Furthermore, First Metro served as the exclusive financial advisor for a landmark joint venture between property giant Federal Land, Inc. and Nomura Real Estate Development, leading to the establishment of Federal Land NRE Global (FNG).
The partnership will facilitate a 25-year pipeline of projects across key locations such as the Manila Bay area, Mandaluyong, Cavite, and Cebu, covering a total area of 250 hectares. These projects are expected to generate over 6,000 job opportunities, further cementing First Metro's position as a contributor to the growth and progress of the country.