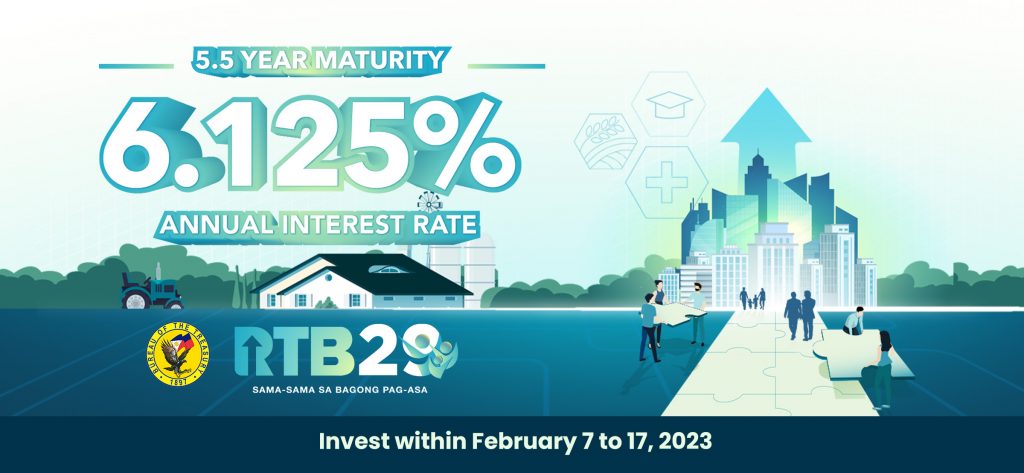 Bureau of the Treasury's Retail Treasury Bonds 29
The Retail Treasury Bonds ("RTBs") are debt-instruments issued by the Republic of the Philippines, via the Bureau of the Treasury, that pay periodic interest payments, with the eventual return of the principal on maturity date. The RTBs form part of the National Government's program to make government securities available to retail investors, especially individuals.
The 29 th tranche of the RTBs ("RTB 29") will help fund the National Government's projects in infrastructure, agriculture, education, and healthcare. First Metro Investment Corporation and Metropolitan Bank & Trust Company are Selling Agents of RTB 29.
For more information, visit https://www.treasury.gov.ph/rtb29/.
Terms of the Offer
Issuer
Republic of the Philippines
Issue Amount
Minimum of Thirty Billion Pesos (PHP 30,000,000,000,000.00)

The Republic reserves the right to increase the overall size of the Issue.

Public Offer Period
7 to 17 February 2023
Issue Date
22 February 2023
Minimum Investment
PHP 5,000.00 and integral multiples thereof.
Maturity Date
22 August 2028, or if the Issue Date does not occur on 22 February 2023, the Maturity Date shall be the date that is five and a half (5.5) years following the Issue Date.
Interest Rate
6.125% per annum
Interest Payment Date
Quarterly
Taxation
Prevailing final withholding tax on coupon payment shall be for the account of the bondholders. Tax Exempt Institutions (TEIs) without a tax-exempt NRoSS Securities Account purchasing RTBs shall submit a valid BIR tax ruling.

Documentary stamp tax (DST) on original issue shall be for the account of the Issuer.

Status
The RTB 29 constitutes direct, unconditional, unsubordinated, and general obligations of the Republic and shall at all times rank pari passu and without any preference among themselves.
Elibility
The RTB 29 qualifies in the same manner as all other Treasury Notes and Bonds in respect of: (i) the liquidity floor requirement for government funds and reserves for trust duties under Bangko Sentral ng Pilipinas rules and regulations; (ii) insurance reserves under the Insurance Commission rules and regulations; and (iii) performance and judicial bonds.
Listing
The RTB 29 shall be listed on the Philippine Dealing and Exchange Corp. (PDEx).
Bonds eligible for the Exchange Offer (1:1)

| | | | |
| --- | --- | --- | --- |
| ISIN | Series Name | Interest Rate | Maturity |
| PIBD0523C752 | FXTN 05-75 | 5.500% | 3/8/23 |
| PIBD0723D588 | FXTN 07-58 | 3.500% | 4/21/23 |
| PIBD2023E054 | FXTN 20-05 | 11.875% | 5/29/23 |

Form and Denomination
of Exchange Offer
Each Exchange Offer shall be in a minimum amount of PHP5,000.00 in multiples of PHP 0.01.
First Metro's Role
Joint Issue Manager and Selling Agent
Contact Details
Any questions related to the Retail Treasury Bonds may be directed to the following representatives.